4X4 MONSTER TRUCK
SINCE I'M THE "KING OF OBSOLETE", EVEN MY MONSTER TRUCK IS MADE FROM RECYCLED STEEL. MY DAD AND I PLAYED JUNKYARD WARS ABOUT 5 YEARS AGO AND THIS IS THE MONSTER TRUCK WE BUILT. WE HAVE HAD A LOT OF FUN WITH IT BUT WE DON'T DRIVE OVER CARS AT THE SCRAP YARD ANY MORE BECAUSE WE FIND THAT THE GREAT WHITE NORTH BUSH TERRAIN IS MORE FUN. SO IN JUNE 2005, SOUTHERN BELLE AND I BOUNCED OVER THE WORST ROAD IN THE NORTH TO DELIVER FUEL TO A LODGE. FIRST TRIP WAS FINE BUT TO DO IT 3 TIMES ALL IN THE SAME DAY, TALK ABOUT HARD ON THE OLD BODY. REMEMBER I'M GETTING OLD, MY BALD SPOT IS GETTING BIGGER EVERY YEAR. LOL.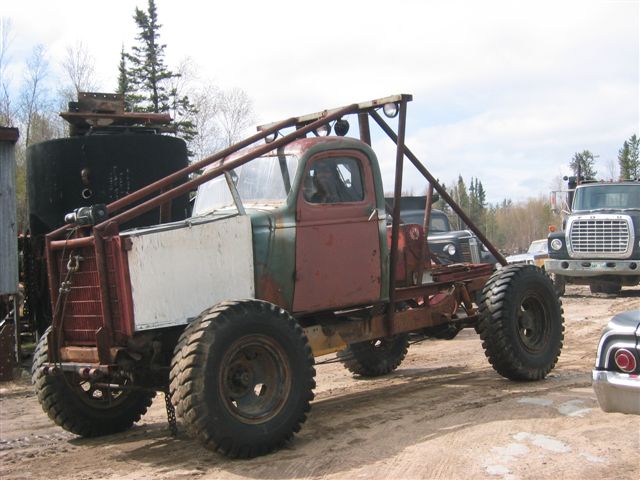 FIRST WE TOOK THE "MEAN-FUN" MONSTER TRUCK AND HAD TO MAKE HIM IN TO A WORK TRUCK FOR THE BUSH SO WE COULD HAUL FUEL BARRELS.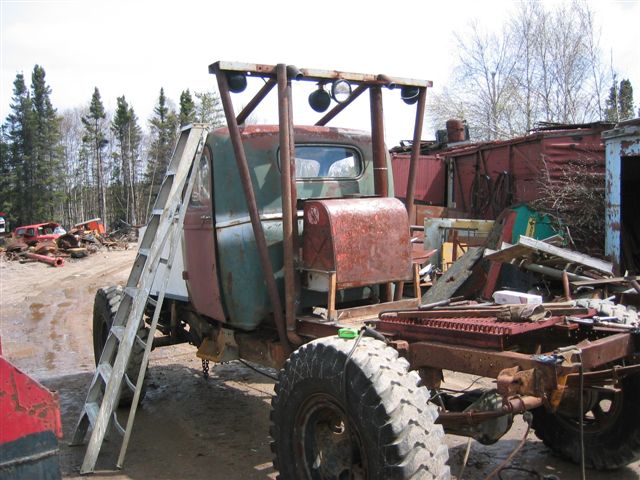 FUEL TANK AND ROLL BARS ALL HAD TO BE CHANGED FOR A BOX TO FIT.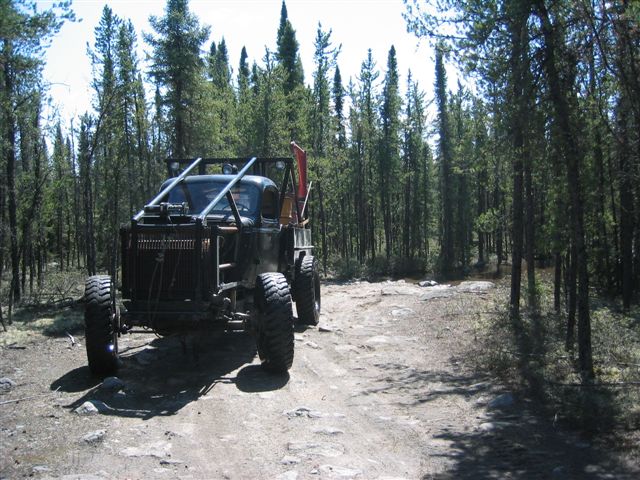 THE SMOOTHEST PART OF THE ROAD, IT WAS ROCKS OR WATER WE WERE TRAVELING ON.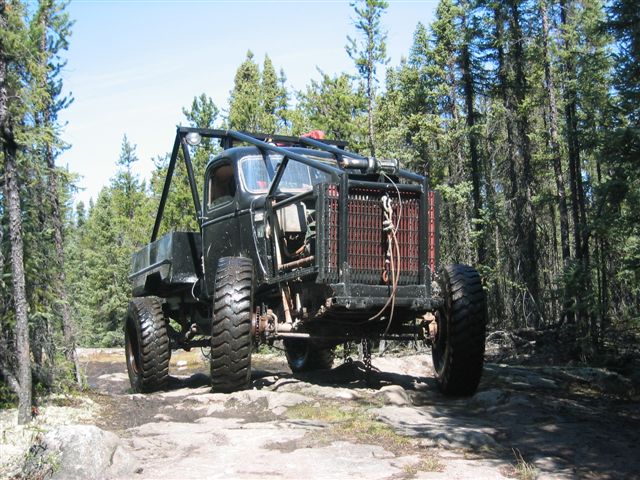 IT WAS A VERY HOT DAY SO THE HOOD AND SIDE PANELS WERE TAKEN OFF, SO WE HAD WATER FLOOD THE ENGINE A COUPLE OF TIMES.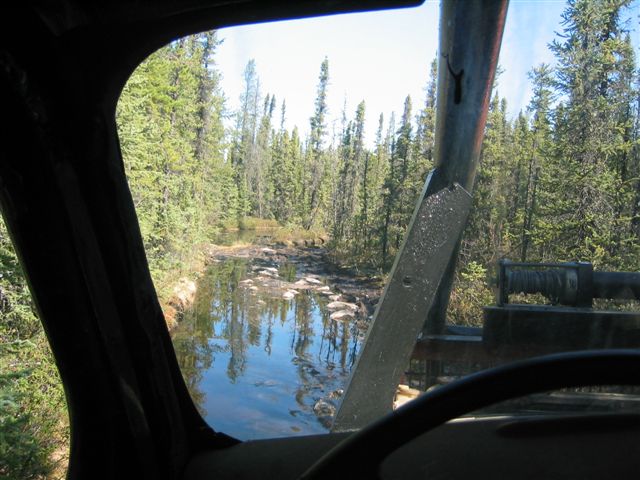 THE VIEW FOR THE NEXT 2 HOURS.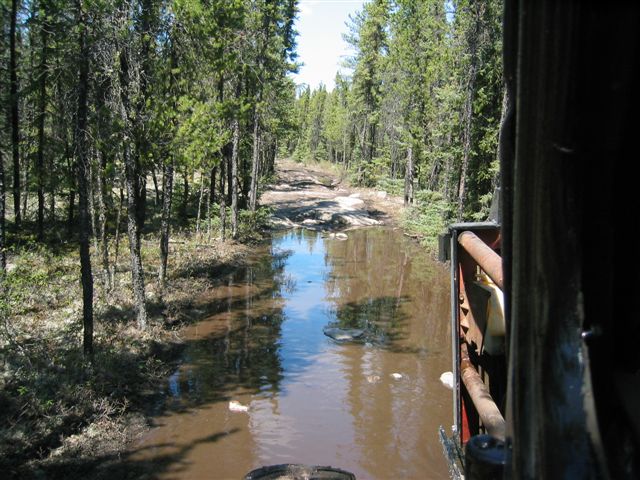 LOVE THAT WATER, BUT THESE ARE THE SHALLOW POOLS, SOME WERE UP TO 3 FEET DEEP. WHICH WAS NO PROBLEM FOR MONSTER TRUCK.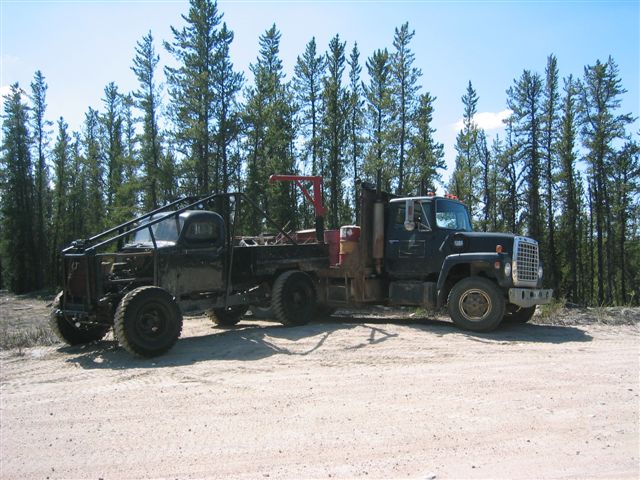 LOADING MORE BARRELS OF FUEL OFF THE FORD SEMI. EIGHT BARRELS WAS JUST ABOUT THE MAX FOR MONSTER TRUCK.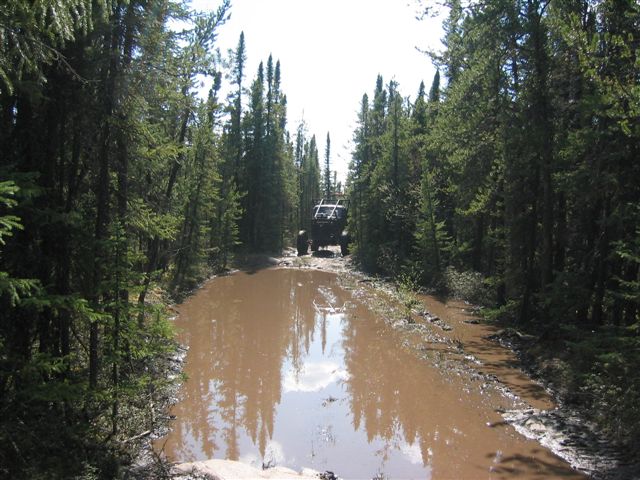 YES I WALKED ALL THE WAY AROUND THIS WATER HOLE JUST FOR A PICTURE. THE THINGS I DO FOR MY PEOPLE ON THE INTERNET. LOL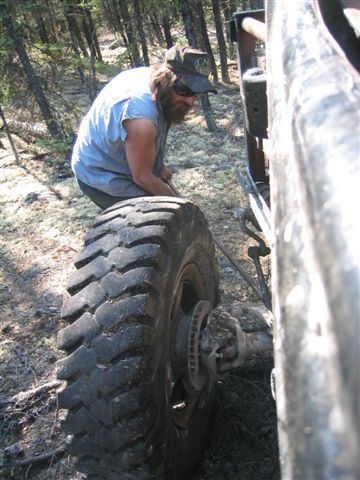 WHEN WE BOUNCED OFF A REALLY BIG TREE (LARGER THEN THE STANDARD 6" TREE THAT GROW UP HERE) THE DRAG LING BENT. THIS IS NO PROBLEM, JUST BEND IT BACK AND OFF WE GO AND HOPE WE HIT A REALLY BIG TREE AGAIN TO BEND IT BACK THE OTHER WAY.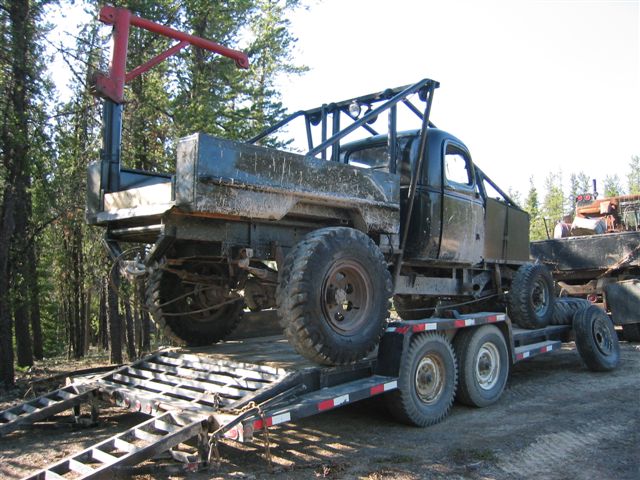 LOADING UP TO HEAD HOME AFTER AN EXCELLENT DAY BOUNCING OFF THE ROCKS AND TREES. WE HAVE TO CHANGE TO SMALL TIRES ON THE FRONT TO LOAD MONSTER TRUCK. ALL TRUE MONSTER TRUCKS HAVE TO DO THIS FOR TRANSPORTING.
THANSK
UPDATED DECEMBER 2006
WE TOOK MONSTER TRUCK OUT ON THE BIGGEST BODY OF WATER AROUND HERE TO DO A LITTLE ICE ROAD DRIVING.
THE STORY OF RUNNING REINDEER LAKE -- DEC 29
MONSTER TRUCK ON REINDEER LAKE -- DEC 28
http://www.machinebuilders.net/forum/forum_posts.asp?TID=946&PN=1&TPN=1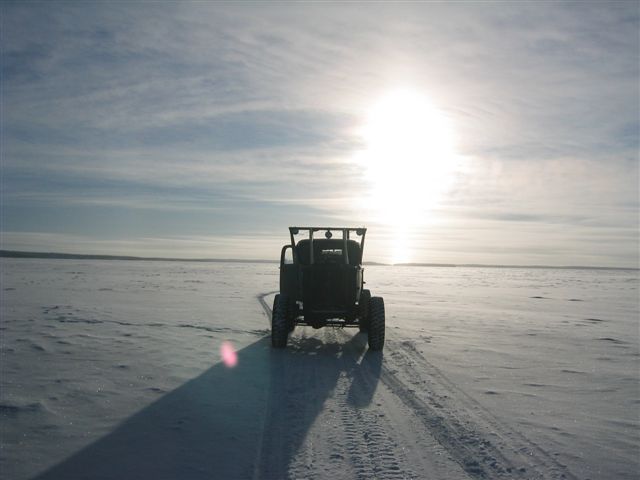 MONSTER TRUCK WORKING ON THE ICE