WHAT THE KING DID TODAY
SO IF YOU ARE READING THIS, IT IS NOT TODAY BUT THIS IS WHAT THE KING DID YESTERDAY. info@kingofobsolete.ca
THANSK
CHANGES MADE
KING TODAY DIAL UP PAGE -- DEC 18 2014
NEW PRICES BECAUSE OF SHIPPING COSTS ON THE BOOKS
SCREAMING FORD ON KM 17 HILL IN THE DARK ON YOUTUBE -- SEPT 09 2014
SCREAMING FORD SCREAMING FOR MERCY ON KM 20 HILL ON YOUTUBE -- SEPT 09 2014
SCREAMING FORD KM 29 HILL ON YOUTUBE -- SEPT 09 2014
LINN TRACTOR IN THE KINGDOM ON YOUTUBE -- SEPT 09 2014
T-9 INTERNATIONAL FAMOUS BLACK CAT ON YOUTUBE -- SEPT 09 2014
TD-18 INTERNATIONAL CAT PULLING A ROAD DRAG ON YOUTUBE -- SEPT 09 2014
2006 CHEVY 2500HD ICE CROSSING ON YOUTUBE -- SEPT 09 2014
SICKLE LAKE LODGE ELEVEN YEARS LATER -- MAY 01 2014
CAT TRAIN NEWSLETTERS BOOK for sale here on the website
LIFE IN THE KINGDOM BOOK for sale here on the website
DEC 18 2014
YESTERDAY I TOOK THE TD-18 KNOWN AS "DUALLY" OUT FOR A SPIN BUT THERE IS NOT ENOUGH SNOW. THE SNOWS HAVE NOT COME THIS YEAR BUT THE COLD HAS BEEN HERE FOR A LONG TIME.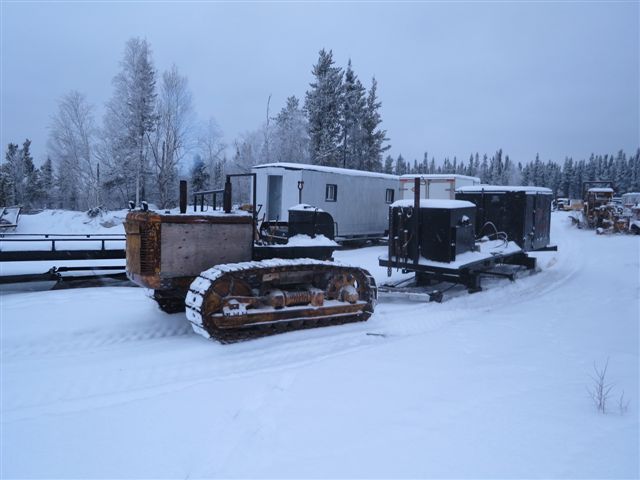 DEC 17 2014
A FRIEND OF MINE IN THE LAND OF OZ SENT ME THE DVD COLLECTION FOR THE FILM "BACK OF BEYOND". IT IS A REALLY GOOD STORY OF PLAYING IN THE DESERT.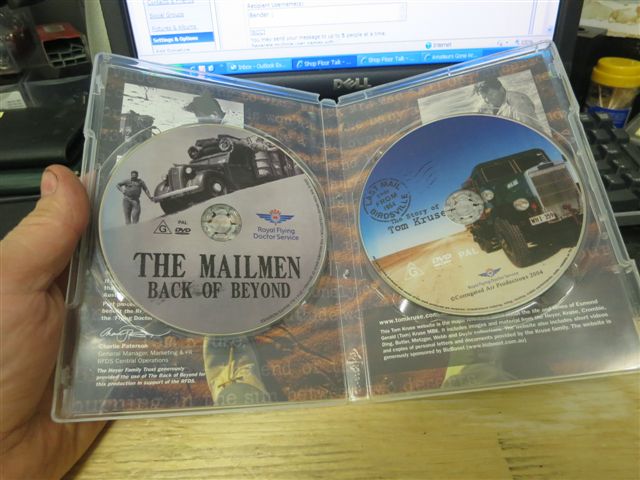 DEC 16 2014
THE DESK IN MY LITTLE OFFICE WAS GETTING TOO SMALL FOR 2 COMPUTERS AND MAILING OUT BOOKS. IT ONLY TOOK A COUPLE OF HOURS TO WHIP UP AND EXTENSION.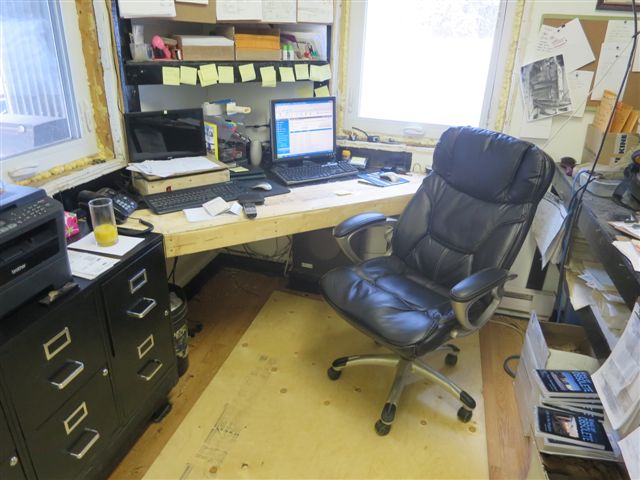 DEC 15 2014
MY SO CALLED GUARD DOGS IN THE "KINGDOM" ARE MORE INTERESTED IN HAVING FUN THEN DOING THEIR JOB. THEY SEEM TO LIKE GETTING THEIR PICTURE TAKEN TOO.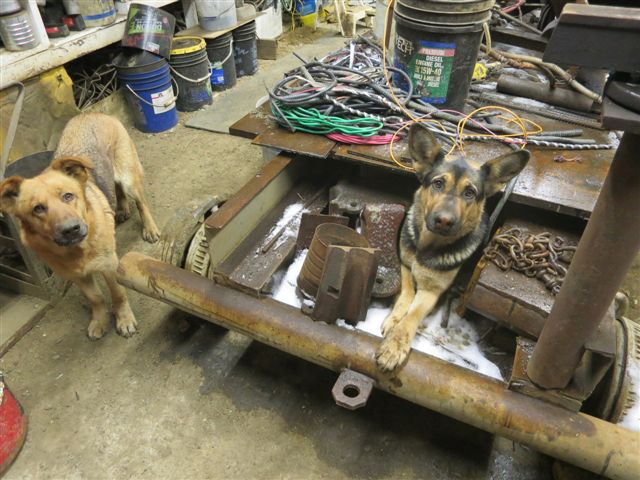 DEC 14 2014
IT WAS A BORING WEEKEND IN THE "KINGDOM" WITH WHIPPING UP TRAILER 6.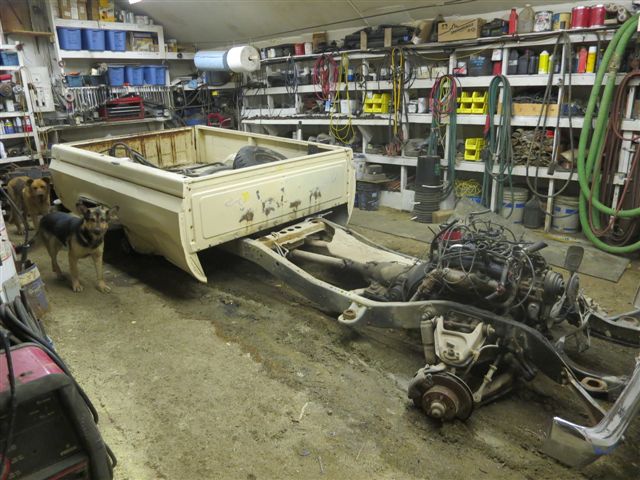 I RAN OUT OF BLACK PAINT TO FINISH PAINTING THIS TRAILER. BUT IT IS COMPLETE AND READY TO GO.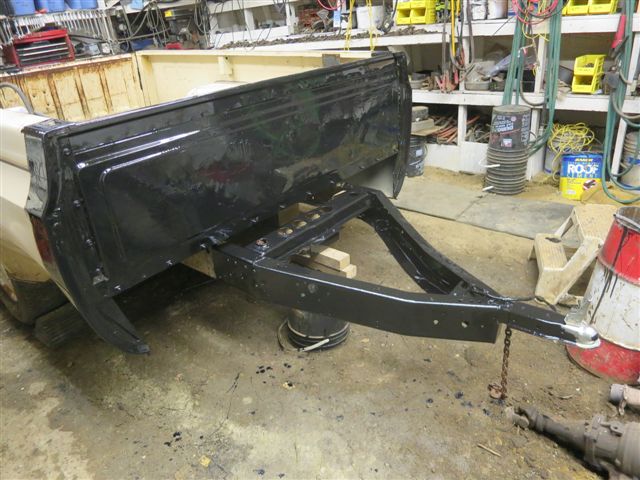 DEC 12 2014
I WAS BUSY FOR A COUPLE OF DAYS ON A SECRET PROJECT BUT I CAN SHOW YOU A COUPLE PICTURES ON THE WAY HOME. AT THIS TIME OF YEAR THE TEMPERATURE GAUGE ON THE PINK CREW CAB SHOULD READ -34C NOT -4C. IT IS A LITTLE TOO WARM FOR THIS TIME FO THE YEAR.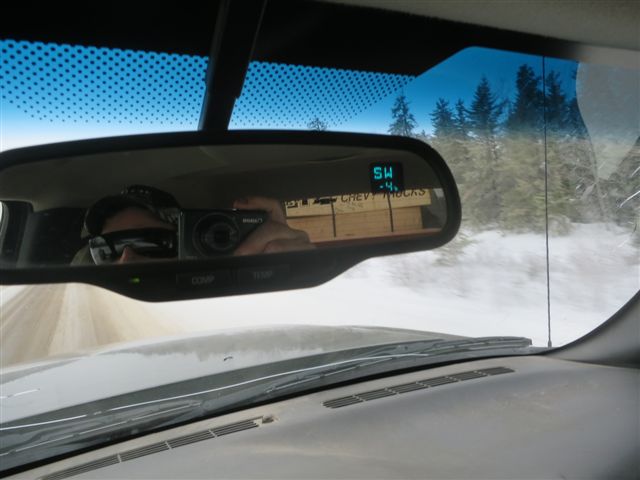 THE PINK CREW CAB THIS MONING IN THE "KINGDOM". I CAN NEVER RETURN BACK WITH OUT MY SUPPLIES.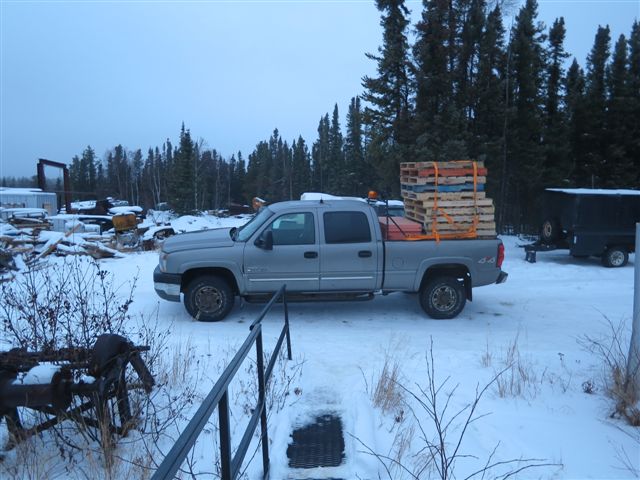 DEC 08 2014
IT IS THAT TIME OF YEAR WHEN I GET TO WORK ON THE "PINK CREW CAB". THIS TRUCK IS HIGH MAINTANCE FOR SOME REASON. OH WELL.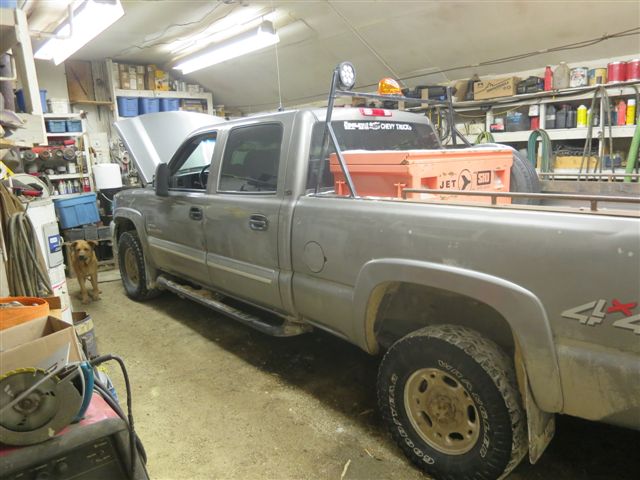 DEC 07 2014
I FORGOT TO POST A PICTURE OF THE SKI-DOO TRAILER FINISHED TO THE POINT OF HAVING TO WAIT FOR PARTS. ONE OF THE JOYS OF LIVING IN THE GREAT WHITE NORTH IS THE PARTS HAVE TO COME FROM THE SOUTH.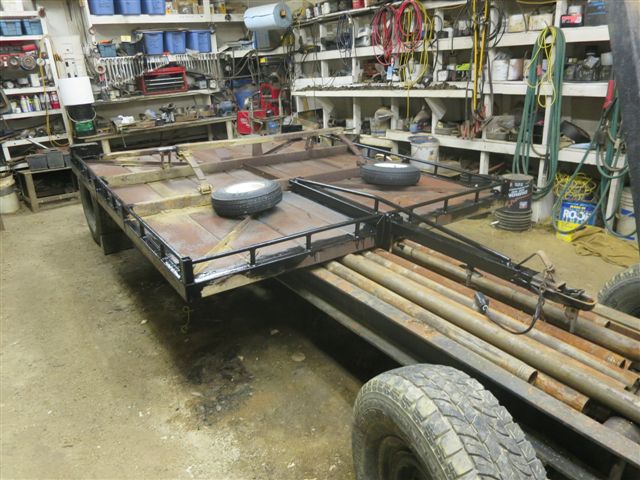 DEC 06 2014
AT -27C WITH A WINDCHILL OF -33C, I GOT THE 1939 CHEVY UP AND GOING. THE TRUCK IS EASY TO START AT COLD TEMPS BECAUSE IT HAS A MANUAL CHOKE.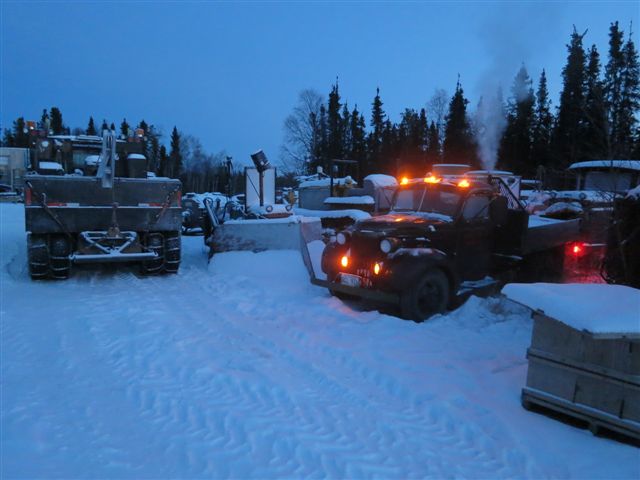 DEC 05 2014
YESTERDAY WAS AN EASY DAY BY GETTING STARTED ON REWIRING THIS SK-DOO TRAILER. I ADDED A PIPE DOWN THE SIDE TO HIDE THE WIRES IN PLUS THE FELLOW WILL BE ABLE TO USE THE PIPE FOR STRAPPING THE LOAD DOWN.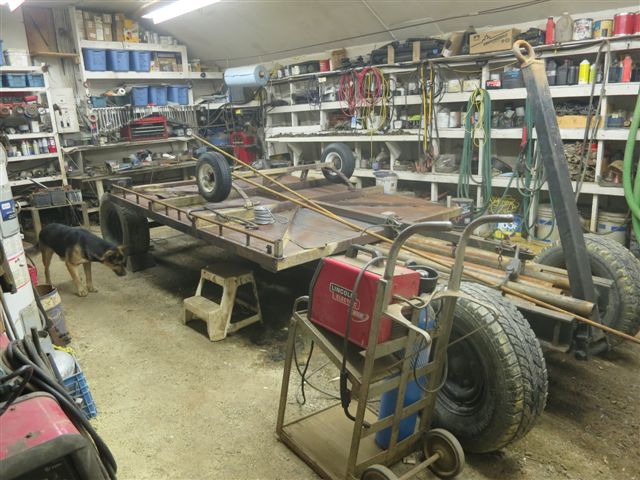 DEC 04 2014
AFTER 2 WEEKS I FINALLY GOT THE TANDEM TRAILER FINISHED AND OUT OF THE SHOP. NOW THE SHOP IS BACK TO NORMAL AND WARMER. I HAVE A COUPLE OF DAYS WORK ON THIS SKI-DOO TRAILER TO MAKE IT WORTHY OF THE GREAT WHITE NORTH.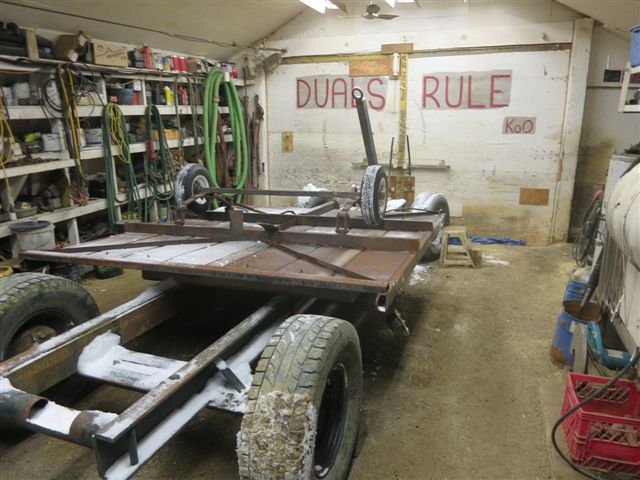 DEC 03 2014
THE HIGH SPEED (IT IS NOT HIGH SPEED) INTERNET WAS DOWN FOR A DAY SO I COULD NOT UP DATE THE WEBSITE. I HAVE A HIGH SPEED (IT IS NOT HIGH SPEED, IT IS WORSE THEN DIAL UP) DISH THAT I WAS ABLE TO DO EMAILS WITH. I WORKED ON THE TANDEM TRAILER DOING THE LIGHTS ON THE BACK AGAIN. PLUS I WROTE A FEW STORIES FOR MY 4TH BOOK WHICH I HAVE TO GET IN TO PRINT.
FOR SOME REASON WHEN THE DOGS SEE THE CAMERA NOW, THEY WANT TO BE IN THE PICTURE.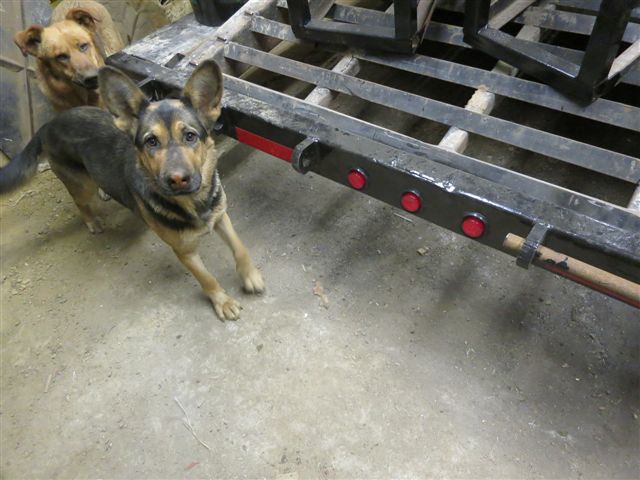 DEC 01 2014
WE HAD A NICE JOB ALL SUMMER HAULING GARBAGE FROM THE NEW BUILDING THAT WAS BEING BUILT AT HUGHES LAKE. THE BUILDING IS NOW COMPLETE SO WE HAVE NO MORE GARBAGE TO HAUL.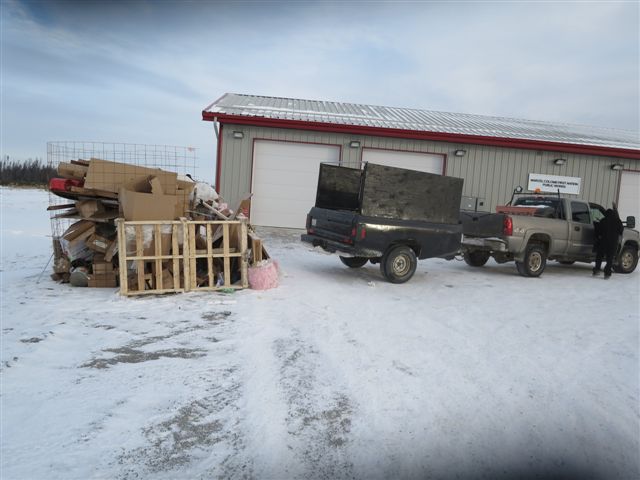 MY STAFF DID NOT THINK IT WAS ALL GOING TO GET IT TO FIT IN WHAT WE BROUGHT TO HAUL IT AWAY BUT WE DID GET IT ALL IN.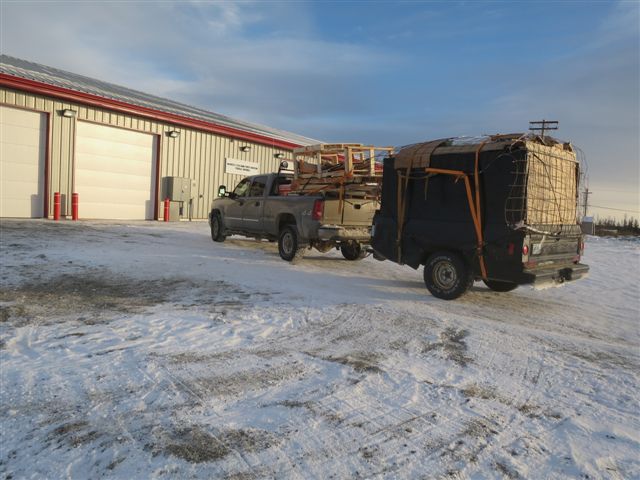 NOV 30 2014
AFTER I FINISHED WELDING UP THE SKI-DOO SLEIGH HITCH, I TOOK THE REST OF THE DAY OFF TO RELAX AND WATCH A FEW MOVIES.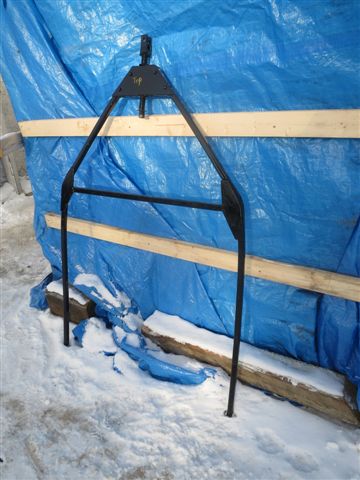 NOV 29 2014
TODAY I HAD TO HAUL A LOAD OF WATER FOR THE "KINGDOM". THE SHOP EXTENSION MADE IT GREAT FUN TO GET THE WATER PUMPED IN TO THE SHOP BECAUSE THE HOSE WAS NOT QUITE LONG ENOUGH. OH WELL, LOL.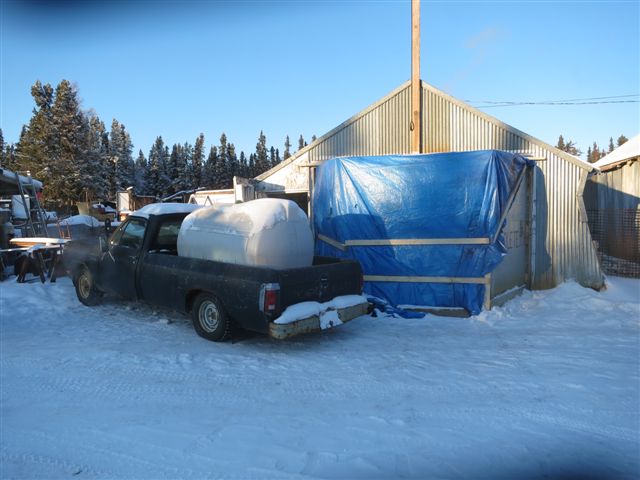 NOV 28 2014
IT WAS A BORING DAY IN THE "KINGDOM" BECAUSE ALL I DID WAS SIGN BOOKS AND MAIL THEM AROUND THE WORLD. I DID CHECK OUT THE SNAIL MAIL ADDRESSES ON GOOGLE TO MAKE SURE THE ADDRESSES ARE CORRECT. IT SURE IS NEAT TO SEE WHERE PEOPLE LIVE USING GOOGLE. HERE IS A PICTURE OF XENA ON THE D6 9U KNOWN AS "THE HOOD" PULLING LOADED SLEIGHS TO SICKLE LAKE LODGE IN APRIL. WE HAD A LOT OF FUN ON THAT TRIP AND I WILL ADD THE PICTURES TO THE WEBSITE WHEN I GET A CHANCE AND THE COMPUTER LIKES ME, LOL.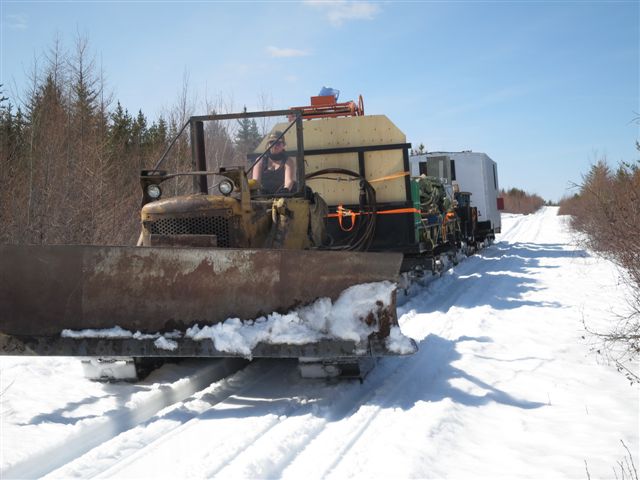 NOV 27 2014
THE COLD WEATHER BRINGS GREAT FUN FOR THE NEW STYLE VEHICLES WHICH MEANS MONEY FOR ME. THE NEW SCHOOL BUS ALWAYS QUITS IN COLD WEATHER BECAUSE OF THE DEF FUEL SYSTEM. THIS IS ANOTHER REASON WHY I BUILT A TOW TRUCK FOR THE "SCREAMING FORD". I HAD NO PROBLEM BACKING UP THROUGH A 60 FOOT WIDE DOOR TO GET THE BUS IN A WARM BUILDING.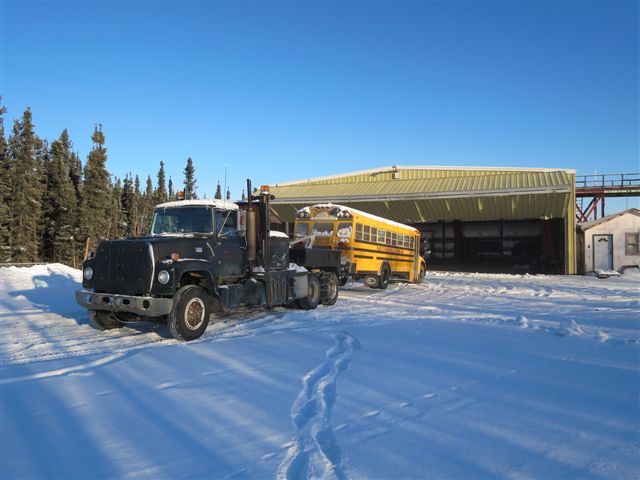 ONE THING NICE ABOUT THIS BUS IS THERE IS LOTS OF GOOD STEEL AT THE BACK TO HOOK UP THE TOWING CRADLE. OF COURSE I USED LOTS OF CHAINS TO MAKE SURE THE BUS DID NOT GO ANY WHERE.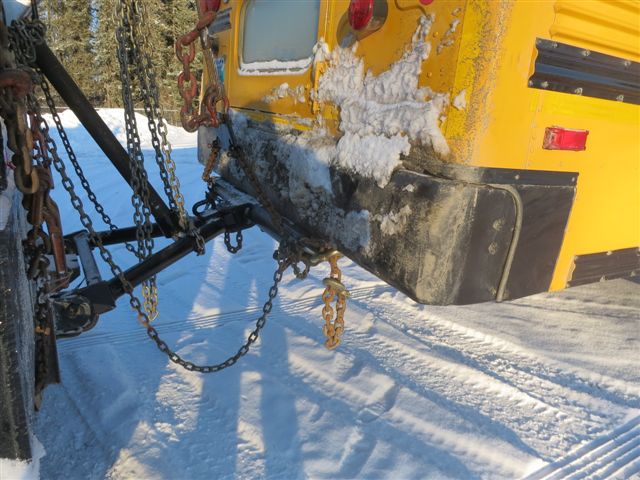 NOV 26 2014
WITH THE OUTSIDE TEMPERATURE AT -32C WITH A WIND CHILL OF -41C, IT WAS A GOOD DAY TO HIDE IN MY LITTLE SHOP AND ENJOY THE WOOD STOVE. I'M FIXING UP THE RAMPS ON THE BACK OF THE TANDEM TRAILER SO I CAN GET ANOTHER 10 YEARS OF USE OUT OF THEM.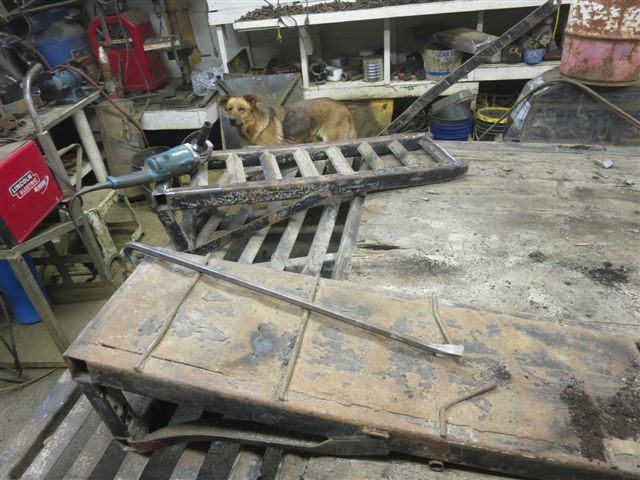 NOV 25 2014
WE FINSIHED UP THE ROOM AT THE HOTEL IN TIME FOR IT TO BE RENTED OUT. IT IS SUPPOSE TO BE COLD ALL WEEK SO I'LL HAVE TO FIND SOME MORE IN DOOR PROJECTS TO STAY WARM.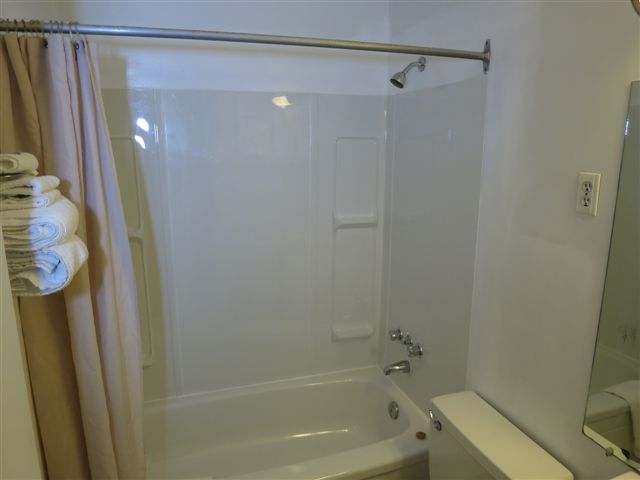 NOV 24 2014
IT IS A GOOD THING I HAVE WELDING AWARDS AND WELDING TICKETS SO I CAN WORK WITH WOOD. WE ARE FINISHING UP ANOTHER TUB SURROUND AT THE HOTEL WHICH IS A NICE WRAM PLACE TO WORK AT -35C.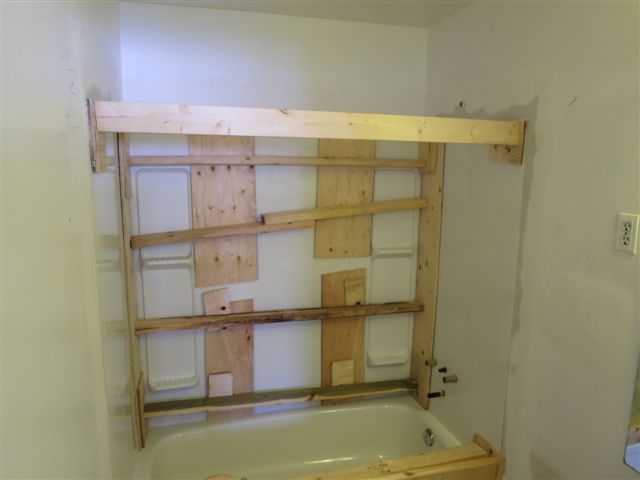 NOV 23 2014
WHAT A SURPRISE TO WAKE UP TO -31C THIS MORNING. OH WELL, I CHOSE TO LIVE UP HERE, LOL.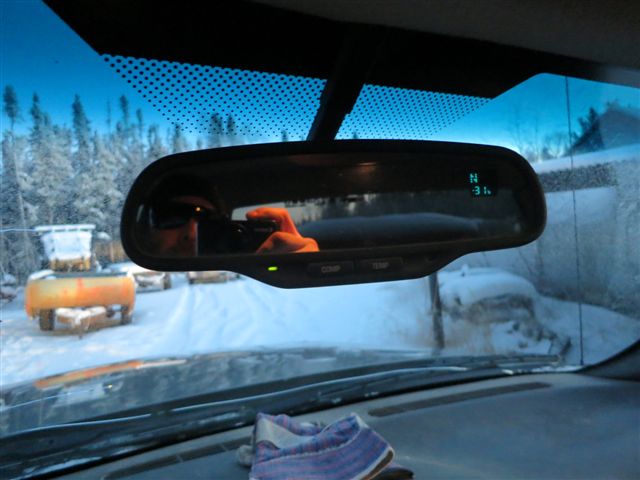 NOV 22 2014
IT WAS ONLY -28C WHEN I STARTED FRANK'S TRUCK FOR HIM IN THE "KINGDOM". SORRY FOR NOT UPDATING MY WEBSITE BUT I HAVE HAD A BUSY COUPLE OF DAYS. NOW IT IS TIME TO RELAX AND GET A FEW PROJECTS COMPLETED.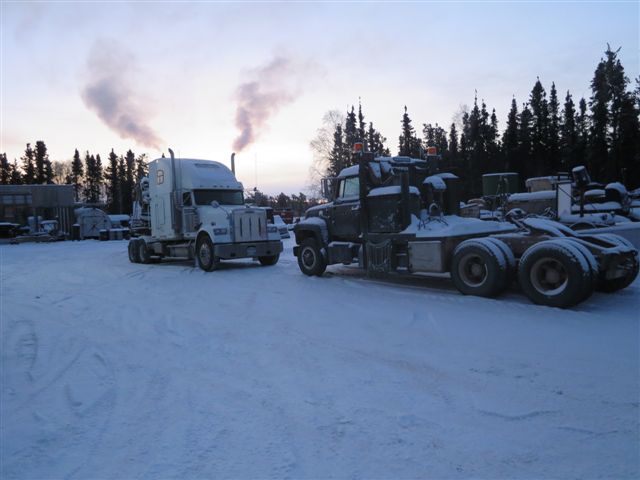 NOV 19 2014
OH MY!! MY LITTLE SHOP IS TOO SHORT SO I HAD TO ADD A QUICK EXTENSION ON IT SO I COULD WORK ON MY TRAILER. IF I FINISH MY NEW BIG SHOP THEN I KNOW I CAN'T AFFORD TO HEAT THE SHOP FOR NOT SO BIG PROJECTS. I MIGHT JUST HAVE TO ADD AN EXTENSION TO MY LITTLE SHOP.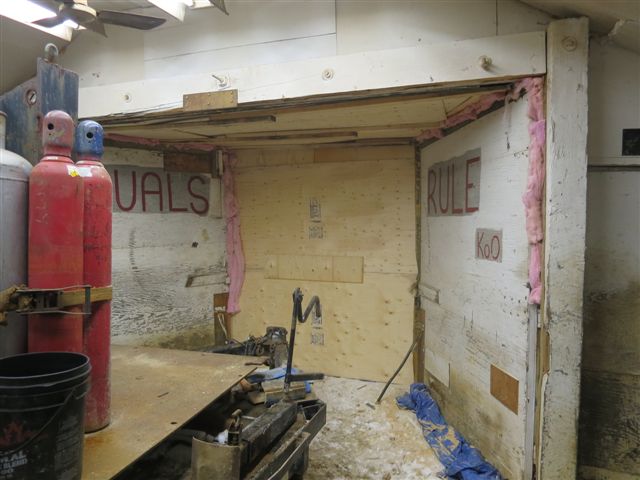 NOV 18 2014
IT WAS PERFECT DAY WITH LOTS OF WIND AND BLOWING SNOW TO DO THE GARBAGE RUN AT A NEW BUILDING CONSTRUCTION SITE. WE HAD A FUN TIME KEEPING THE GARBAGE IN THE SIDED TRAILER BUT WE DID IT.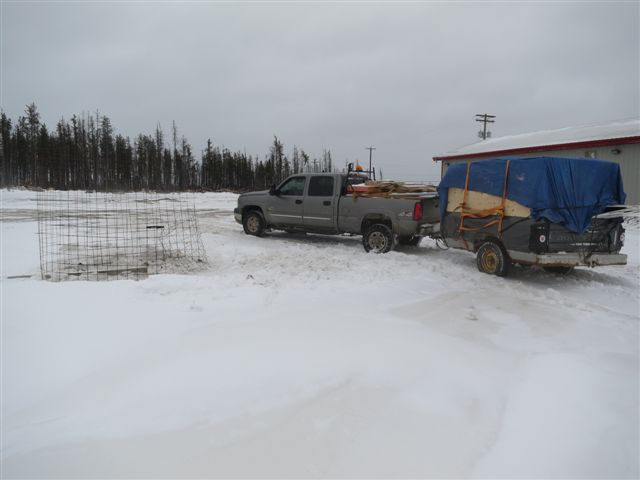 NOV 17 2014
FINALLY AFTER A WEEK OF WORKING ON AND OFF IN ROOM 52 AT THE LYNN INN, THE TUB SURROUND IS FINISHED. WORKING WITH WOOD IS NOT SOMETHING I LIKE DOING BUT THERE WAS NO ONE ELSE. MAYBE IS 20 YEARS WHEN I'M IN MY 60s, BEING A HANDYMAN WILL BE FUNNY. ALSO NOTE THAT THERE IS NO PAINTING DONE BECAUSE THEY DON'T LIKE THE WAY I SPLASH PAINT AROUND FOR SOME REASON, LOL.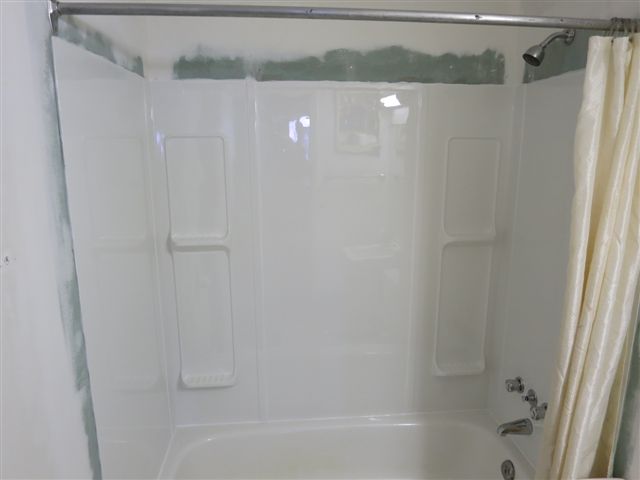 NOV 16 2014
I HAD RELAXING DAY IN MY LITTLE SHOP WELDING UP THE FRONT SKI BUNK FOR THE P.A.T. SKIS. OF COUSRE I SPLASHED A GOOD COAT OF PAINT ON THE BUNK, LOL.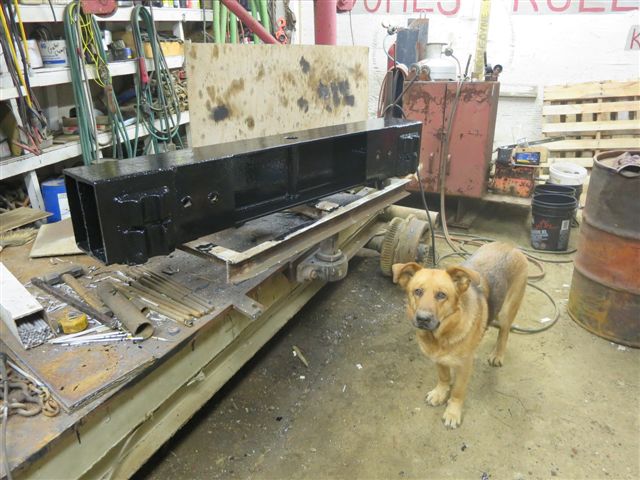 NOV 15 2014
WE DID A QUICK TRIP TO THOMPSON AND IT WAS A QUICK TRIP BECAUSE WE ONLY BROUGHT BACK A 1/2 A LOAD OF WOOD PALLETS.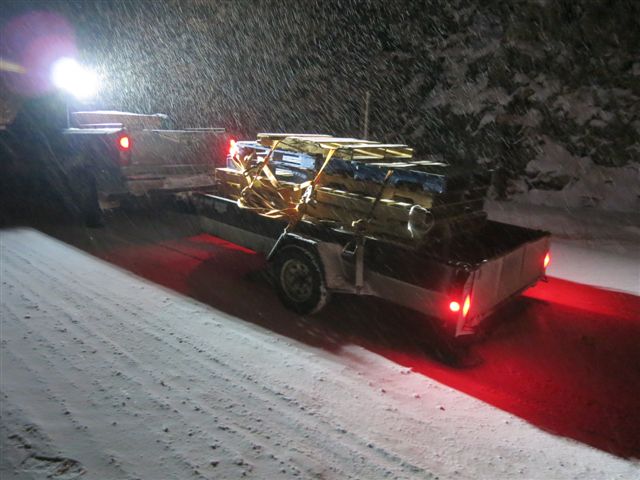 NOV 13 2014
I HAVE BEEN STUCK IN THE OFFICE DOING PAPERWORK BECAUSE THE WEATHER HAS TURNED COLD. I DUG OUT AN OLD PHOTO FROM APRIL 08 2009 WHICH IS 5 YEARS AGO AND THE "SCREAMING FORD" LOOKS GOOD. I HOPE THIS IS THE LAST DAY DOING PAPERWORK BECAUSE IT IS VERY BORING IN THE OFFICE, LOL.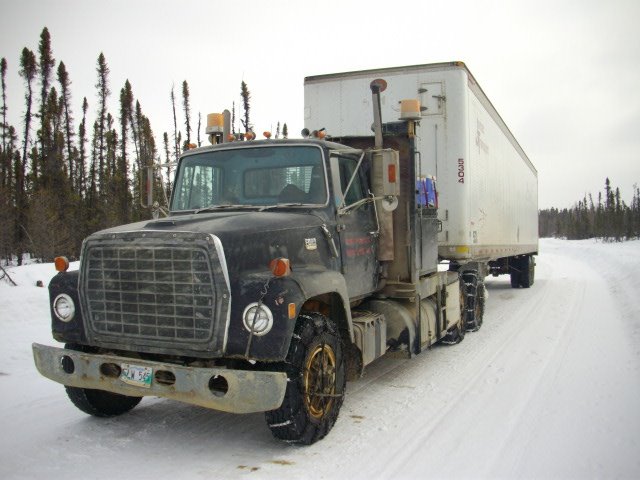 NOV 11 2014
YESTERDAY WAS A DAY OF REST SO HERE IS A QUICK PICTURE FROM THE "1100 KM IN 3 DAYS TOUR" IN APRIL 2014. THE SCREAMING FORD SURE LOOKS GOOD IN THE EARLY EVENING.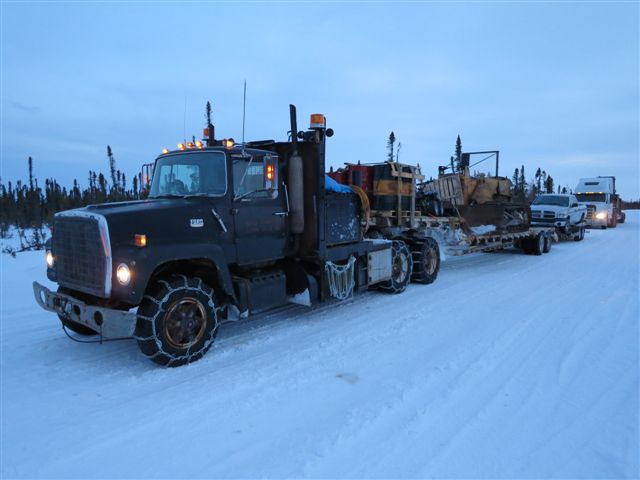 NOV 10 2014
IT IS OFFICAL THAT I'M GETTING OLD BECAUSE I'M DOING MAINTANCE AT THE HOTEL. THE SHOWER TAPS AND SPOUT ALL FELL APART AFTER 40 YEARS OF USE AND I GOT VOLUNTEERED TO CORRECT THE PROBLEM. DOING HOME MAINTANCE IS NOT SOMETHING I LIKE BECAUSE I REALLY DON'T LIKE WORKING WITH WOOD. IT TOOK ME A WHILE TO WHIP UP A NICE SOLID PIECE THAT WILL HOLD THE TAPS AND SPOUT IN PLACE FOR THE NEXT 40 YEARS.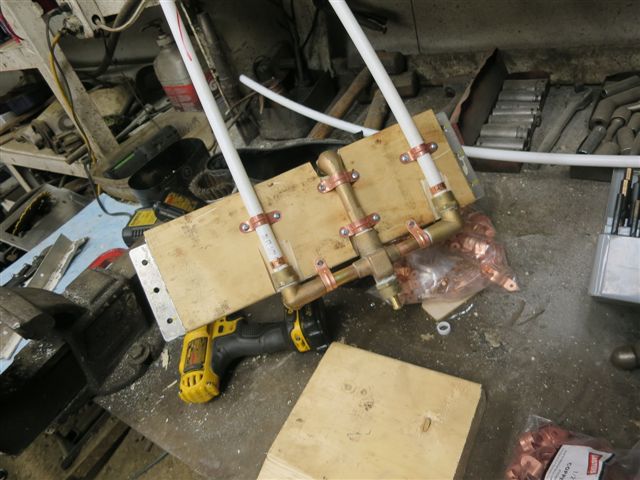 NOV 09 2014
WITH THE WEATHER BEING COLD AND WINDY, I MOVED THE WELDING TABLE INSIDE MY LITTLE HEATED SHOP.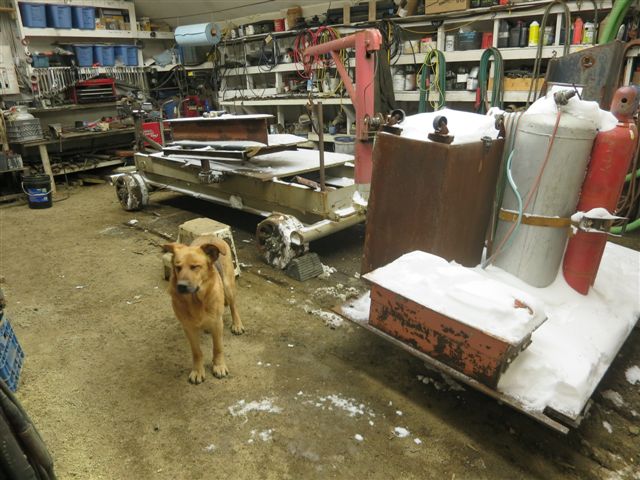 ONCE THE SNOW MELTED FROM EVERYTHING, I WAS ABLE TO GET SOME WELDING DONE ON THE SLEIGH BUNK.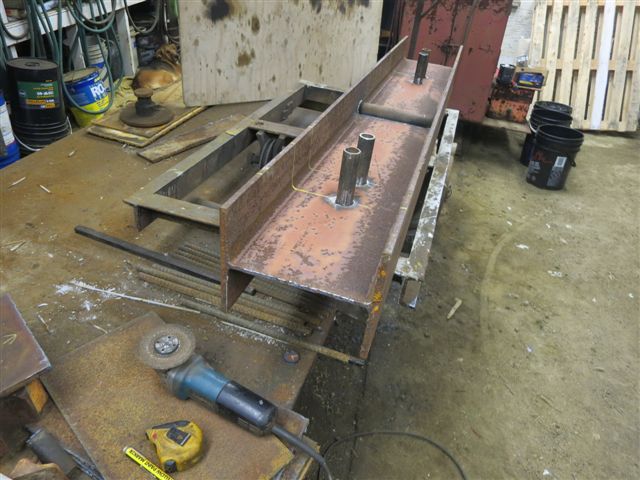 NOV 08 2014
WITH THE WEATHER BEING NASTY OUTSIDE IT WAS A GOOD DAY TO WORK IN MY LITTLE SHOP. WHEN THE SEMI DIDN'T MAKE IT UP THE BIG HILL COMING OUT OF KINOOSAO, "MY" TIRE CHAINS GOT DESTORIED. OH WELL, IT IS A FACT OF LIFE AND IT IS ONLY $400.00 FOR ANOTHER SET TO SHIPPED TO THE END OF THE WORLD. WINTER ROAD TRUCKING COSTS A LOT OF MONEY WITH BREAKAGE AND REPAIRS. SO I CAN'T FIGURE OUT WHY SOME COMPANIES WILL HAUL FREIGHT BELOW THE GOING RATE.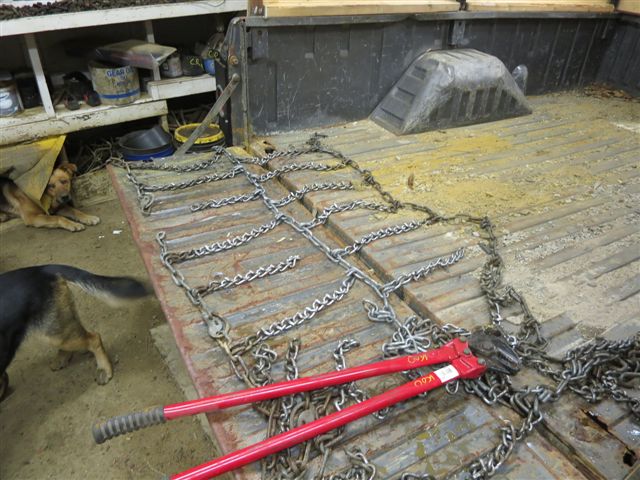 NOV 07 2014
THE WEATHER HAS TAKEN A TURN FOR THE WORST WITH LOTS OF HIGH WIND AND BLOWING SNOW. IT WAS A GOOD DAY TO STAY INSIDE AND DO PAPERWORK.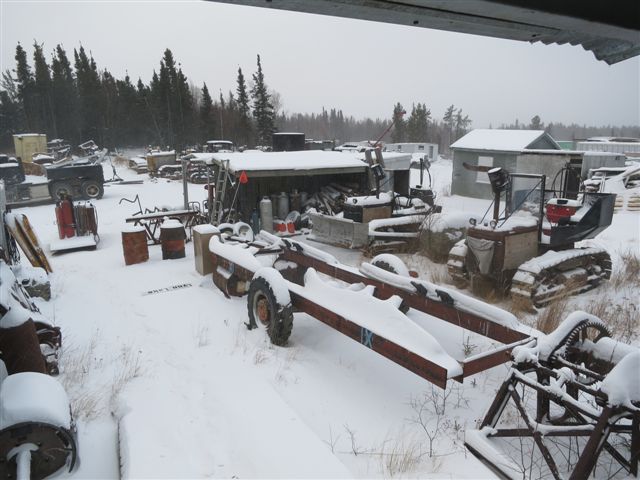 NOV 06 2014
ON THE RETURN TRIP BACK TO THE "KINGDOM" FROM THE BARGE IN KINOOSAO, THE SEMI DID NOT MAKE THE BIG HILL BECAUSE OF THE ICE FIELD 1/2 WAY UP THE HILL. IT DOES NOT MATTER IF THE SEMI HAS ALL WHEEL LOCK UP, TRIPLE CHAINS ON THE BACK DRIVE AXLE AND SINGLES ON THE FRONT DRIVE AXLE, GRAVITY WILL ALWAYS WIN. ONCE THE SEMI HIT THE ICE FIELD, TRACTION WAS LOST AND SLIDING BACKWARDS DOWN THE HILL WAS A FACT OF LIFE.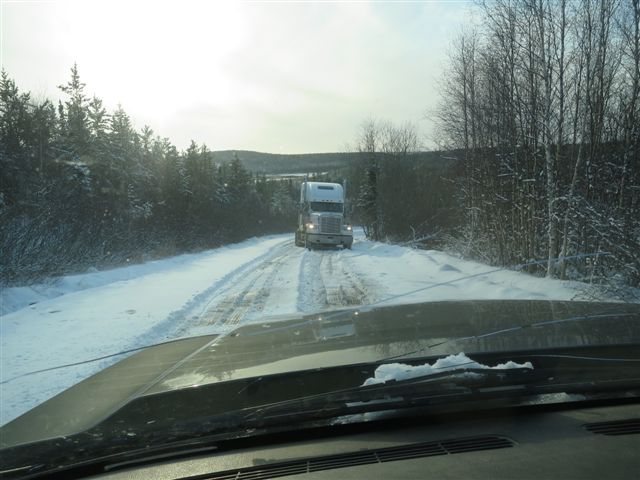 OF COURSE IT WAS NOT A BIG DEAL FOR THE PINK CREW CAB TO PULL THE SEMI UP THE HILL BECAUSE I HAVE DONE THIS BEFORE. ALL IT TAKES IS A LITTLE EXTRA PULLING BY THE PINK CREW CAB FOR THE SEMI TO OVER COME GRAVITY AND MAKE IT UP THE HILL. I NEED TO MARRY A CAMERA LADY TO GET ALL THIS FUN ON FILM, LOL.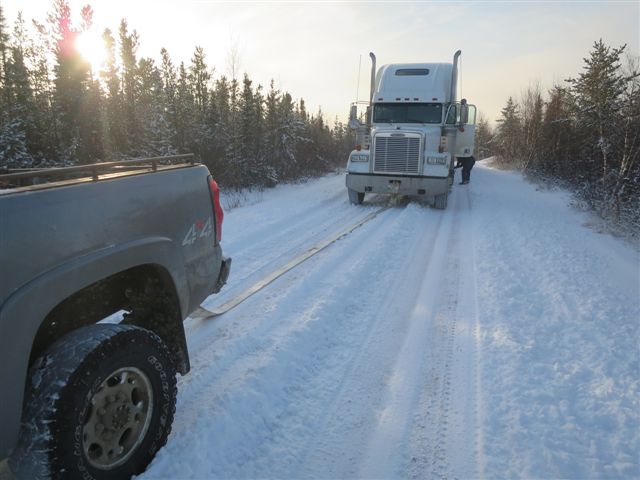 NOV 05 2014
WE DID A QUICK TRIP OVER THE KINOOSAO RALLY ROAD WHICH HAD 4-6" OF SNOW IN IT. THIS MADE THE DRIVING A LITTLE FUN FOR SOME REASON.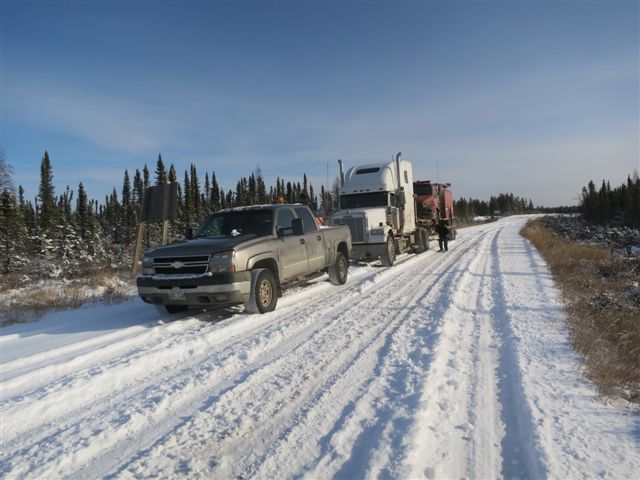 WHEN WE ARRIVED AT THE BARGE IT WAS GOOD TO SEE OPEN WATER WHICH IS NOT NORMAL FOR NOVEMEBR 05.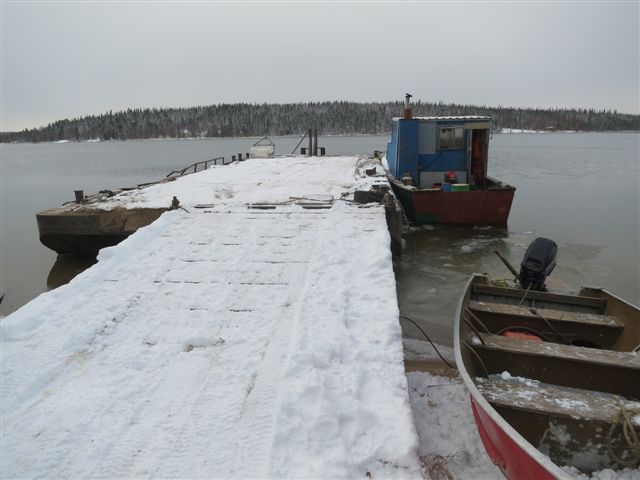 NOV 03 2014
AFTER SUPPER LAST NIGHT I WAS ABLE TO GET TRAILER NUMBER 5 WIRED UP WITH LIGHTS.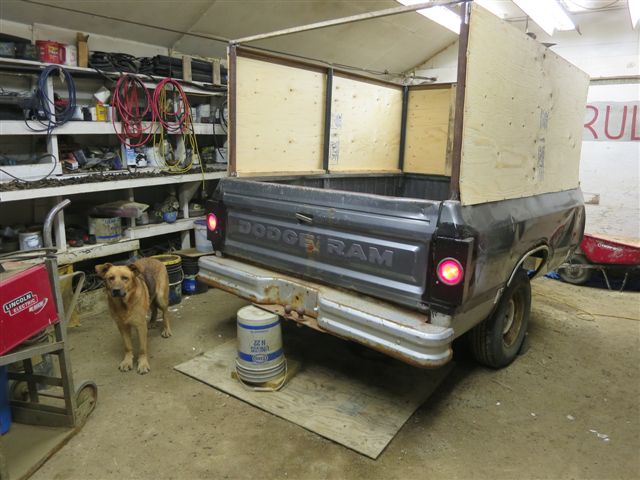 SINCE I'M COLOUR BLIND I USE ONLY BLACK AND WHITE WIRES TO DO THE WIRING. WHEN I GET TO THE LIGHT PLUG WHERE THERE IS COLOURED WIRES, I HAVE TO TEST EACH WIRE TO MAKE SURE THE WIRES ARE CORRECT FOR THE LIGHTS.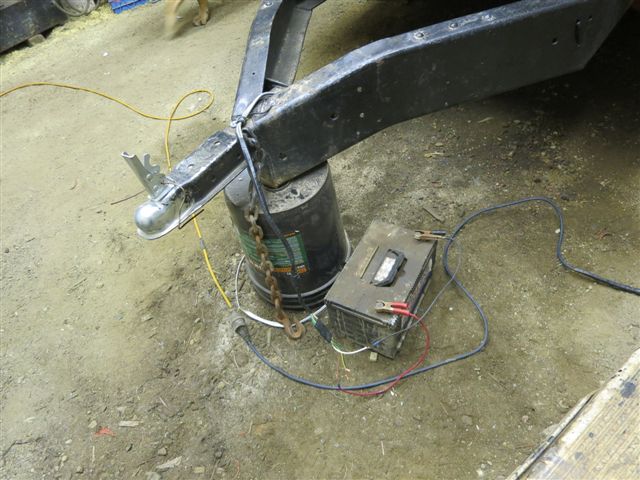 NOV 02 2014
I ENJOYED A NICE RELAXING DAY IN MY LITTLE SHOP PUTTING THE NEW SIDES ON TRAILER NUMBER 5. THIS TRAILER WILL MATCH TRAILER NUMBER 4 BECAUSE THEY WERE BOTH MADE FROM 1985 DODGE TRUCKS.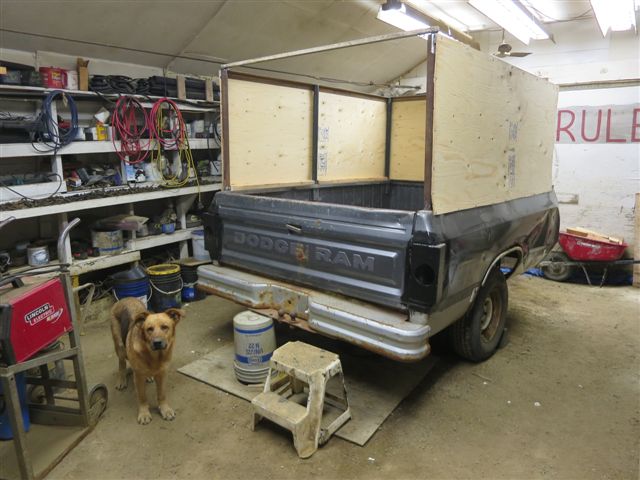 NOV 01 2014
IT IS THE SIGN OF THE TIMES WHEN NOBODY CAN AFFORD TO USE FUEL OIL FIRED BOILERS ANY MORE. IT WAS A SIMPLE JOB REMOVING THE BOILER AND TANKS FROM THE HOTEL IN LYNN LAKE.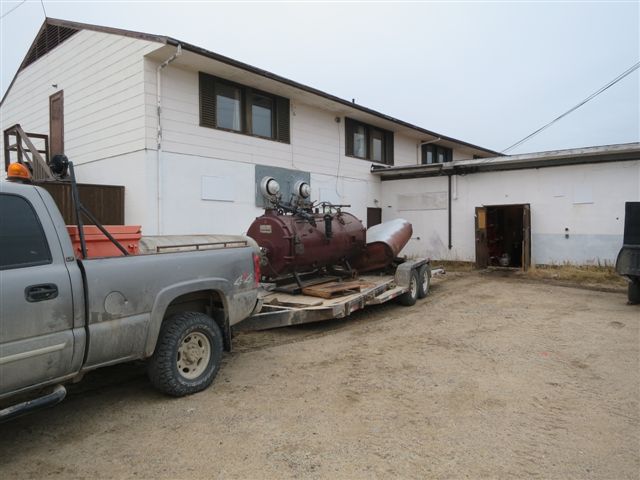 OCT 31 2014
I HAULED 5 PALLETS OF POP AND FOOD SUPLLIES TO THE BIG BOAT THAT TRAVELS TO BROCHET ON REINDEER LAKE. ADDING EXTRA LEAF SPRINGS TO THE PINK CREW CAB AND THE ENCLOSED TRAILER PAID OFF WITH A HEAVY LOAD.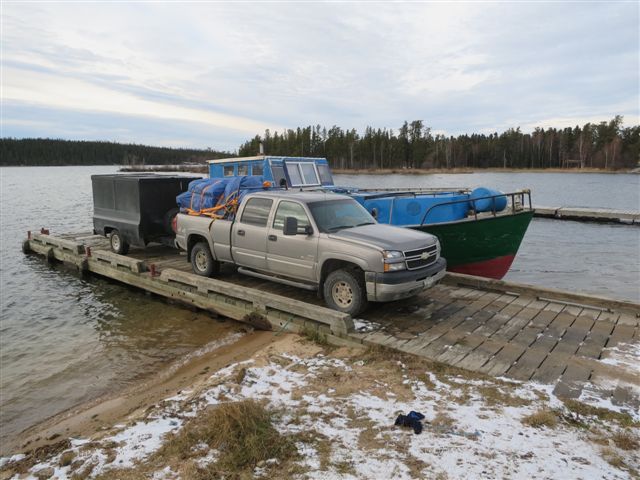 WITH THE BIG BOAT LOADED, THEY HOOKED UP TO THE BARGE AND HEADED NORTH WITH GOOD WEATHER. IT WILL BE A 16 HOUR TRIP TO BROCHET AND IT COULD BE THE LAST TRIP UNTILL NEXT YEAR.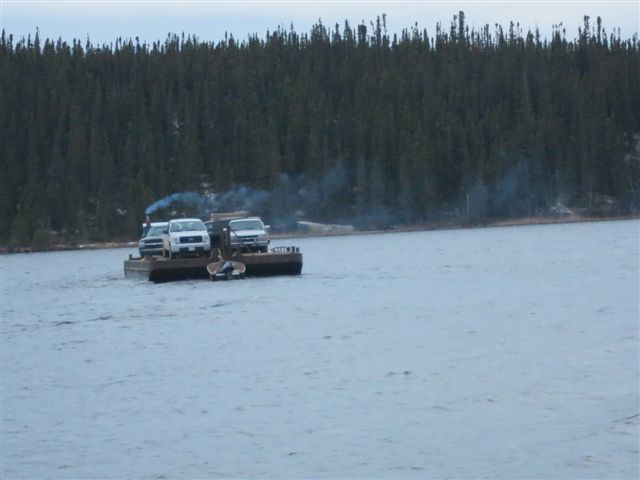 OCT 30 2014
YESTERDAY I HAD TO DO A SIMPLE TOW CALL WITH AN OLD MOTOR HOME. IT WAS AN INTERESTING TOW JOB BECAUSE THE MOTOR HOME HAD TO HAVE A SPECIAL ADAPTER MADE SO I COULD TOW IT. A LITTLE THOUGHT WAS REQUIRED, LOL.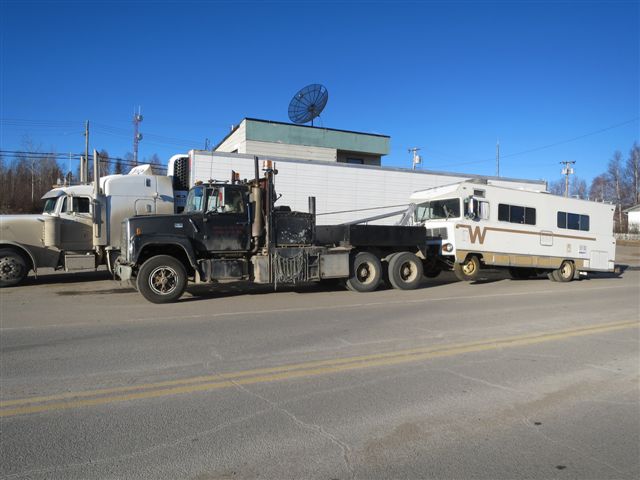 OCT 29 2014
WITH TRAILER NUMBER 4 COMPLETED IT WAS TIME TO START ON TRAILER NUMBER 5. BOTH OF THE TRAILERS WERE DODGE TRUCKS SO IT IS EASY TO MAKE CHANGES ON THEM AT THE SAME TIME.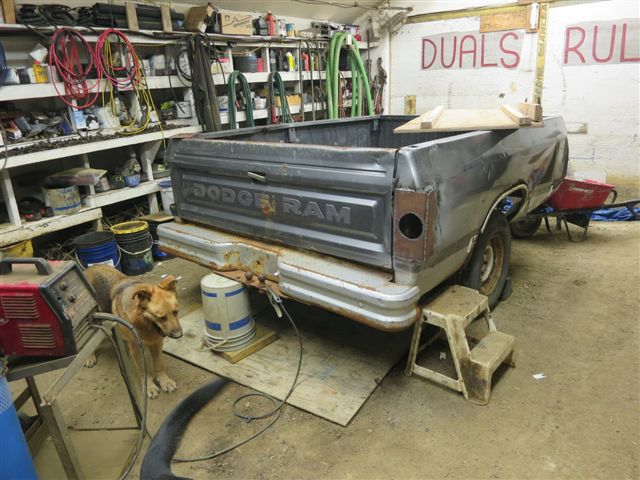 OCT 28 2014
IT HAS BEEN -10C IN THE "KINGDOM" FOR THE LAST COUPLE OF DAYS SO I HAVE BEEN GETTING A LOT OF WORK DONE IN MY LITTLE SHOP. LAST NIGHT I FINISHED THE PLYWOOD SIDES ON TRAILER #4 WITH LOTS OF BLACK PAINT SPLASHED EVERY WHERE, LOL.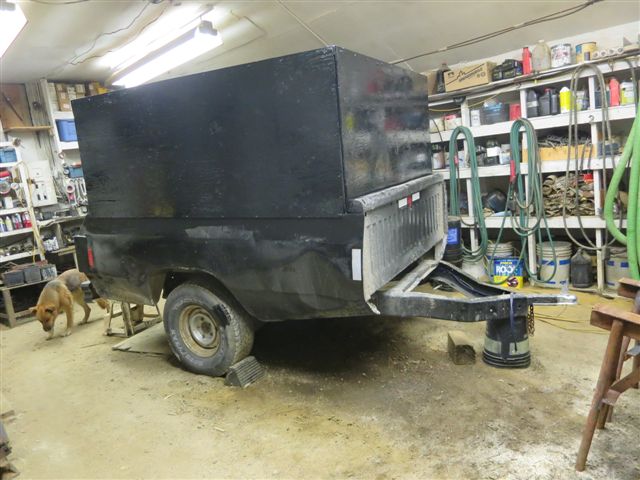 OCT 26 2014
ONCE AGAIN WE HAD TO MAKE ANOTHER TRIP OVER THE KINOOSAO RALLY ROAD BUT THERE WAS NO SNOW.