CHEESE WHIZ
Everyone asks what is the deal with CHEESE WHIZ???? Well in the Great White North a big jar cost over $15.00 Cdn money because of the shipping cost of the dog sled team, I guess. So we treat CHEESE WHIZ as a fancy food which one must not waste. We don't buy those fancy cheese slices which is way too expensive for the little cheese one gets. So we spread the CHEESE WHIZ to make grilled cheese sandwiches and anything else that requires cheese. We even put CHEESE WHIZ in the kraft dinner to make it more cheesey. WOW EH!!!!!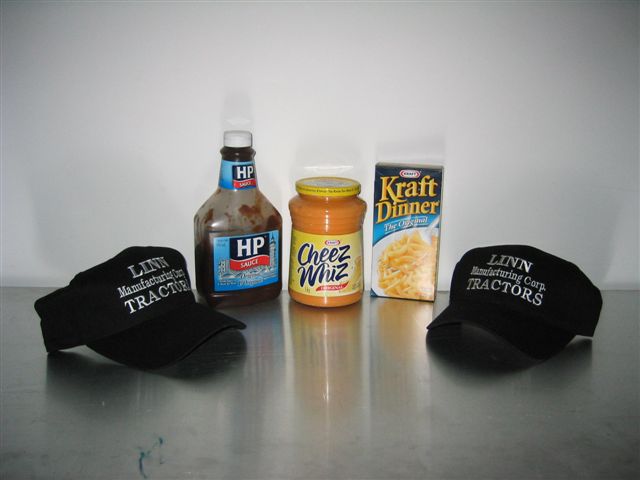 TRULY CANADIAN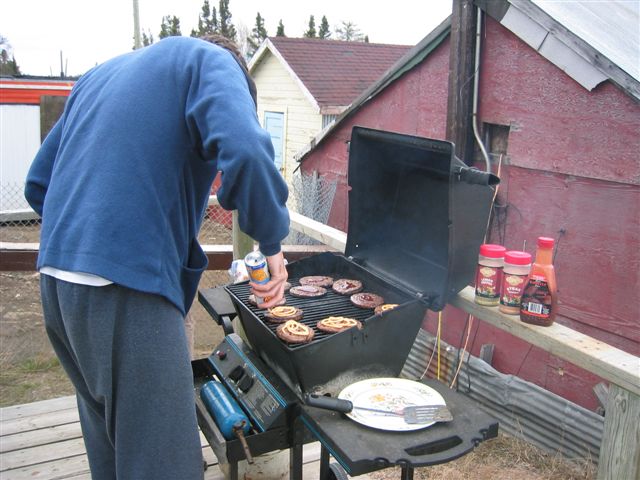 MARK COOKING WITH CHEESE WHIZ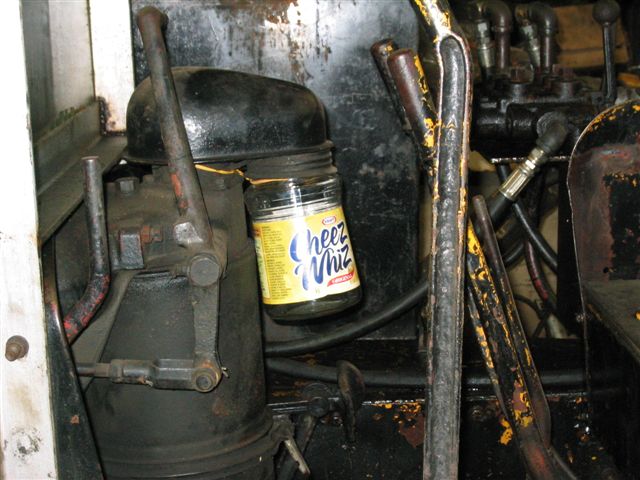 WE RECYCLE THE EMPTY JARS ON THE AIR CLEANERS OF THE CATS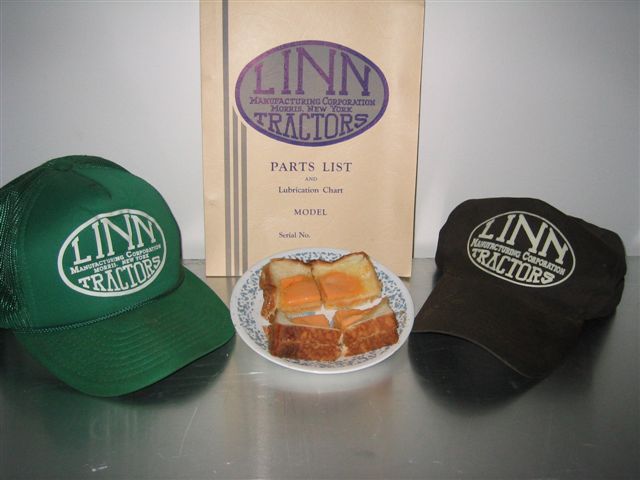 THIS IS HOW TO MAKE XENA'S TOAST, DON'T SPREAD THE CHEESE WHIZ NEAR THE CRUSTS THAT SHE WILL NEVER EAT. WE CAN'T WASTE THIS FANCY FOOD.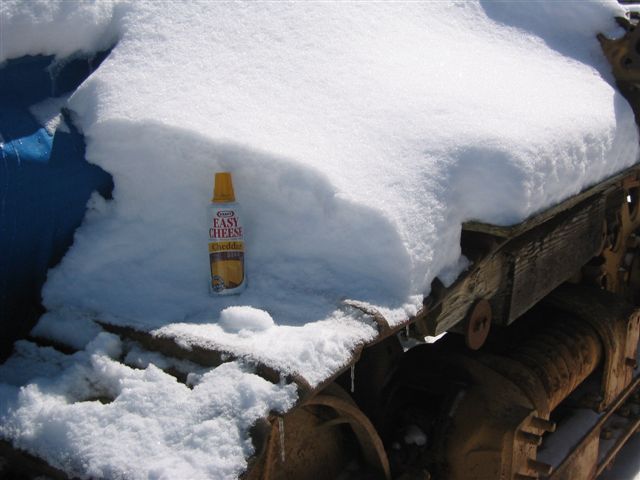 THIS IS HOW WE MEASURE HOW DEEP THE SNOW IS IN THE GREAT WHITE NORTH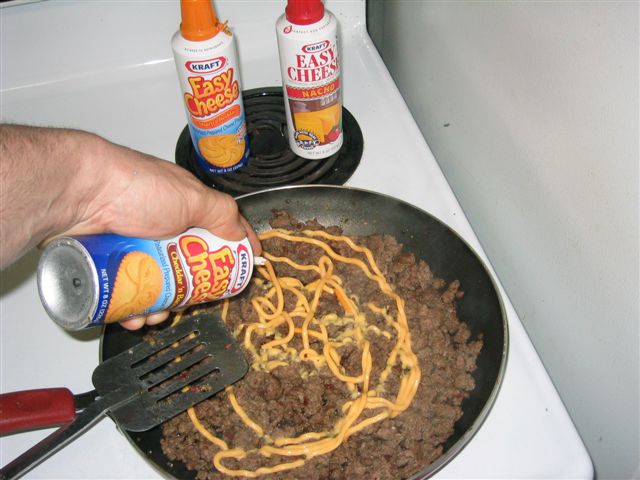 SINCE I'M A SINGLE PARENT OF XENA, COOKING IS KEPT VERY SIMPLE, SO HERE I'M MAKING SUPPER JUNE 19 2004. I FRIED UP SOME SOUTHERN GROUND BEEF AND THEN ADDED SPICES AND FINISHED OFF LOTS OF CHEESE WHIZ FOR THE BEST FLAVOUR. THANSK
I BORROWED THIS FROM THE ACMOC, I WILL RETURN IT, THANSK
ANTIQUE CATERPILLAR MACHINERY OWNERS CLUB :
BULLETIN BOARD :
---
Subject : THE KING SHARES THE WEALTH

---
By king of obsolete (142.161.199.201) on 12/18/03 @ 6:25:01 PM:
i was asked by xena's kindergarden teacher to bring cheese whiz sandwiches to the xmas party today. so xena and i made them fresh and lots of cheese whiz spread only in the middle of the bread (not to waste the cheese whiz because kids never eat the crust) other parents showed up with the fancy store bought snacks. when all was said and done, there was not one cheese whiz sandwich in the garbage, over left over, i wish i could say that for the other fancy store bought snacks thanks
View Picture xena waving merry xmas
By Orrin Š (24.105.204.53) on 12/18/03 @ 7:57:48 PM:
King of Ol'TymeyStuff,

Hey, You & Xena done good, 1 more time. Kudos 2 ya both! Many thanks 4 the great picture of your darling daughter!!
Looks like she'll do a great job of bringin' up her Dad, LOL!!
That's one of the most difficult jobs she'll have in all her life - a
t least that's what my 3-sons tell me, LOL!

Happy Holidays 2 All in Lynn Lake & on the BB,
Orrin Š
JANUARY RAFFLE PRIZE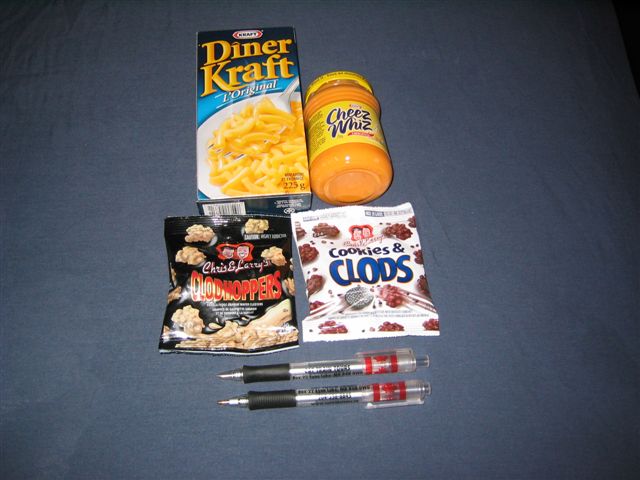 SINCE IT IS THE BBQ SEASON AND WE HAVE SOUTHERN HAMBURGER WHICH MAKE REALLY NICE PADDYS. SO ONCE THEY ARE FLAME BROILED BY THE "KING", THEY ARE EATEN WITH CHEESE WHIZ. (NOTE THE CHEESE WHIZ IS AN AMERICAN BRAND BECAUSE IT IS GIFT TO THE "KING") THANSK