1
KING
OF
OBSOLETE
KING OF OBSOLETE WEBSITE WHICH FEATURES MY LIFE STYLE USING 1940íS STYLE EQUIPMENT WHICH I TRY AND MAKE A LIVING ON THE WINTER CAT TRAINS AND SCRAP METAL RECYCLING. I LIVE AT THE END OF THE ROAD OR SO CALLED ROAD IN THE GREAT WHITE NORTH ON THE OUTSIDE OF THE TOWN OF LYNN LAKE MANITOBA. WE HAVE CALLED THE PLACE THE "KINGDOM" BECAUSE EVERYTHING IS VERY DIFFERENT FROM MOST SUBURBAN HOMES. THE WEBSITE WAS STARTED IN JUNE OF 2004 AFTER ONLY OWNING A COMPUTER FOR LESS THEN A YEAR. I HAVE LEARNED A LOT WITH A WEBSITE AND MADE LOTS OF GREAT FRIENDS AROUND THE WORLD. I HOPE YOU ENJOY AND PLEASE COME BACK OFTEN FOR THE UPDATES ON OUR EXCELLENT ADVENTURES IN THE GREAT WHITE NORTH. (how many people flying in a plane for breakfast at a lodge???? click on)
THANSK (to read more on MY spelling of thansk click on)
KoO
Published Author
(NOTE THAT I HAVE USED BIG PRINT LIKE IN THE CAT TRAIN NEWSLETTERS SO THE OLDER GENERATION CAN READ THIS WITH EASE. IíM THINKING A HEAD FOR WHEN I NEED GLASSES. ALSO I TRIED TO USE COLOURS THAT ARE EASY ON THE EYES TOO BUT IT IS HARD TO PICK COLOURS WHEN ONE IS COLOUR BLIND.)
CHANGES MADE TO WEBSITE
WHAT THE KING DID TODAY -- NOV 23 2015
KING TODAY DIAL UP PAGE -- NOV 23 2015
NEW PRICES BECAUSE OF SHIPPING COSTS ON THE BOOKS
SCREAMING FORD ON KM 17 HILL IN THE DARK ON YOUTUBE -- SEPT 09 2014
SCREAMING FORD SCREAMING FOR MERCY ON KM 20 HILL ON YOUTUBE -- SEPT 09 2014
SCREAMING FORD KM 29 HILL ON YOUTUBE -- SEPT 09 2014
LINN TRACTOR IN THE KINGDOM ON YOUTUBE -- SEPT 09 2014
T-9 INTERNATIONAL FAMOUS BLACK CAT ON YOUTUBE -- SEPT 09 2014
TD-18 INTERNATIONAL CAT PULLING A ROAD DRAG ON YOUTUBE -- SEPT 09 2014
2006 CHEVY 2500HD ICE CROSSING ON YOUTUBE -- SEPT 09 2014
SICKLE LAKE LODGE ELEVEN YEARS LATER -- MAY 01 2014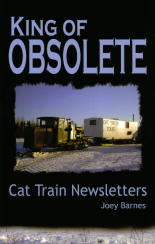 MY FIRST BOOK RELEASED IN 2006
CAT TRAIN NEWSLETTERS BOOK for sale here on the website
EMAIL ME AT info@kingofobsolete.ca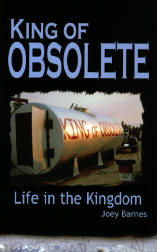 MY SECOND BOOK RELEASED IN 2008
LIFE IN THE KINGDOM BOOK for sale here on the website
EMAIL ME AT info@kingofobsolete.ca
RAFFLE FOR GOODIES -- WE ATTEMPT TO GIVE AWAY STUFF FROM THE KINGDOM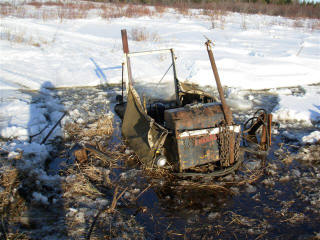 CAT TRAIN TOURS --WHERE PEOPLE CAN ENJOY THEMSELVES
CAT TRAIN NEWSLETTERS -- MY STORIES OF CAT TRAINS
KING'S CATS -- MY COLLECTION OF TD-6, TD-9, TD-18, D6-9U, LINN TRACTOR
(updated JAN 20 2013)
THE KINGDOM --THE PLACE WE CALL HOME (UPDATED JULY 1/07)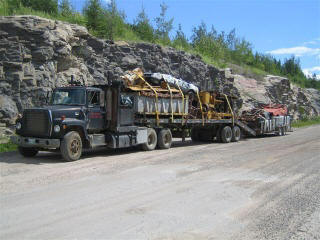 KING'S LINGO -- MY TERMS FOR FANCY WORDS
(UPDATED JAN 01 2013)
KING'S BALD SPOT -- YES IT IS GETTING BIGGER (updated nov 15)
WHAT THE KING DID TODAY -- MY EVERYDAY LIFE UPDATED EVERYDAY IF THE COMPUTER LIKES ME
KING'S ROYAL TOURS --MY TRAVELS THAT TURN IN ADVENTURES (updated Dec 2011)
KING OF OBSOLETE ENJOYABLE BOOKS -- WHAT I LIKE TO READ AND IT DOESN'T FEATURE PLAYBOY
www.kingofobsolete.ca --THE STORY OF HOW THIS WEBSITE CAME ABOUT
CLICK ONE THESE REGULAR PAGES OF THE WEBSITE WHICH MAKES MY LIFESTYLE VERY UNIQUE
THANKS
CANVASES FOR THE FREIGHTING CATS --TO MAKE THEM TRUE WINTER FREIGHTING CATS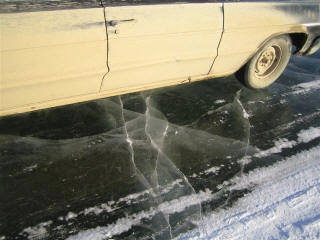 COOKING WITH CHEESE WHIZ --MAKING FOOD TASTE EVEN BETTER
FLEET ON WHEELS --1937 DODGE, 1938 GMC, 1939 CHEVY, 1974 FORD 9000
HOUSES ON SLEIGHS -- YES COMPLETE HOUSES UP ON THE SKINNY SKI SLEIGHS
KING'S BAR STARTER -- THE ONLY WAY TO GET A DEAD ENGINE TO TURN OVER
4X4 MONSTER TRUCK --4 DAYS IN THE SCRAP YARD AND THIS IS WHAT WE BUILT
OLD CAT TRAIN PICTURES FROM THE MEN THAT WERE THERE -- THIS IS THE REAL THING
ROYAL NAVY -- BOAT BUILT FROM SCRAP STEEL
RECYCLED METAL PROJECTS -- SINCE I CAN'T AFFORD NEW STEEL I HAVE TO RECYCLE
SIGFUSSON'S CAT SALVAGE PICTURES --SALVAGING A CAT FROM A WATERY GRAVE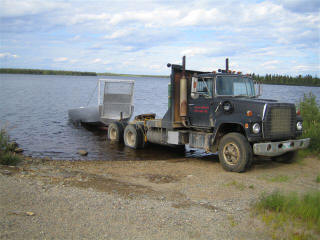 SLEIGH TRAILER -- I BUILT A CUSTOM MADE TRAILER FROM SCRAP METAL
SOUTHERN BELLE -- THE LADY OF THE KINGDOM
THE STORY OF SOUTHERN BELLE'S ILLNESS -- GOOD STORY, ONE OF MY BEST WRITINGS
STERLING'S SUNKEN CAT RECOVERY -- HE LOST HIS CAT 57 YEARS AGO AND WOULD LIKE IT BACK
THE CRUNCH FAMILY--THIS FAMILY THINKS THAT SINGLE STACKS ARE COOL
TD-6 TD-9 INTERNATIONAL CHECK LIST -- WHAT TO DO WHEN YOU BUY YOUR FIRST CAT
WINTER FREIGHTING SLEIGH PICTURES -- THESE ARE THE SKINNY SKI SLEIGHS
WINTER ROAD PICTURES BY COLT- 60 -- BUILDING A WINTER ROAD IN THE GREAT WHITE NORTH
V12 GMC 702 ENGINE KNOWN AS SCHOOL BOY'S DREAM --THE TITLE SAYS IT ALL
8V71 DETROIT DIESEL TRUCK ENGINE -- THIS IS THE ENGINE IN THE SCREAMING FORD SEMI (UPDATED NOV 15)
CONTACTING THE KING OF OBSOLETE -- UPDATED JAN 01 2013 WITH 3 EMAILS AND TELEPHONE NUMBER
LINKS TO WHERE THE KING VISITS IN COMPUTER LAND -- MY FAVORITE PLACES -update jan 01 2013
"ON LINE STORES"
KING OF OBSOLETE STORE --YOU CAN PURCHASE MY UNDERWEAR TOO
CAT TRAIN TOURS STORE --GOODIES FROM THE CAT TRAINS
THE KINGDOM STORE -- ONLY PLACE TO FIND THIS STUFF
THE WEBSITE STARTED IN 2004 WITH MICROSOFT FRONT PAGE. IN 2012 THE HOST SERVER COMPANY WENT TO A NEW SERVER THING AND MICROSOFT FRONT PAGE WAS "OBSOLETE". FROM APRIL TO DECEMBER I COULD NOT UPDATE THE WEBSITE UNTIL I SPENT $1200.00 ON A NEW COMPUTER AND PROGRAM. DECEMBER 23 2012 I WAS ABLE TO UPDATE THE WEBSITE AFTER I LEARNED HOW TO OPERATE DREAMWEAVER CS6 PROGRAM. I WENT FROM AN "OBSOLETE" PROGRAM TOTHIS STATE OF THE ART PROGRAM WHICH MAKES LIFE INTERESTING.
THANSK